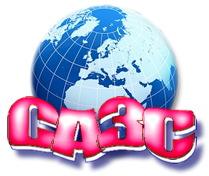 FIDAF
Italian Federation of Agrarian and Forestry Experts
This organization, since 1945, represents graduates of the Faculties of Agriculture, including all provincial and regional associations. It is a member of the European Committee of Agronomists (CEDIA). Its aims are: to promote agricultural ,environmental and food systems, to provide professional updating and vocational guidance, and to help its members with other appropriate services. It publishes the magazine "AGRIculture".
The website: http://www.fidaf.it/


ICEF
International Court of the Environment Foundation
This is the international foundation, originally the International Tribunal for the Environment, established under the Italian Supreme Court by specific authorization of the Chief Justice. For more than ten years its work in spreading culture and knowledge Italy and in many countries round the world has been acknowledged and has contributed to its international prestige.
The website: http://www.icef-court.org/


AISI
Italian Chapter of the Society for International Development
This was one of the first Italian environmental associations promoted and directed by Aurelio Peccei in the 1950's. It is the Italian chapter of the Society for International Development and has promoted culture and knowledge, partly directly and partly by promoting other bodies, with the aim of singling out and championing eco-compatible development.


VILLA CORSINI GROUP
Group for Reflection on Environmental Problems
A large number of scientists, scholars and experts met at the headquarters of the Orto Botanico (Botanical Gardens) in Rome in order to study the changes that human activity has provoked in the balance of the environment. These changes have become immediately apparent in noticeable plant pathologies. The studies and reports of some of its members have met with worldwide recognition.


TROPICAL AGRONOMISTS ASSOCIATION
This Association was formed by and works under the aegis of FIDAF, whose agronomists have worked or are working in Least Developed Countries (LDCs), especially in tropical countries. Their first-hand experience of living in areas which have suffered from the most obvious conditions of environmental degradation has sharpened their particular sensitivity to these problems.


STES
Scientists and Technologists for an Ethic of Development
This voluntary planning association, established in 1989, aims to extend the values of bioethics to all scientific and technical disciplines so as to promote and improve the development of man, his quality of life and his habitat.
The website: http://www.stesecoetica.it/